Floor Cleaning and Sealing in Gillette Wyoming
Hardwood Floors – Rejuvenate Them!

In your busy home, your hardwood floors take a beating. Everyday wear and tear from your pets, kids, spills, traffic, high heel shoes, even your furniture, can gradually dull the appearance of your floors. We believe your floors should always look new, and they can with routine maintenance. Sanding and refinishing is expensive, so follow these simple tips to clean, protect and preserve your investment:
Deep Clean Your Floors
Cleaning your hardwood floors regularly is an important part of keeping them beautiful. As you know, there are a variety of household mops and steamers on the market. These will temporarily clean the surface, but they fall short when it comes to extracting the deep, ground-in dirt.
That's why it is so important to schedule a deep cleaning with
Disaster Recovery
every 6 to 12 months. Our equipment will gently agitate and loosen embedded dirt and residue, and then immediately extract it. You'll be surprised what your mop or steamer has been leaving behind! (Yes, we can even show you!)
There are many "steam cleaners" available for cleaning floors, but they must be used carefully to avoid damaging your flooring. Avoid getting the floors too wet, and make sure the temperature isn't too high.
Preserve Your Floors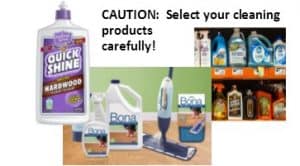 Regularly vacuum or sweep your floors – at least once a week. Walking on a residue of grit and dirt will grind into your floor's surface like sandpaper.
Remove spills right away. Water and other liquids can damage wood if not removed quickly.
Clean your floors at least weekly. But be careful: Avoid using wax, oil soap, or other household cleaners containing wax and silicone-based products. They can compromise your floor's finish and make cleaning even more difficult. If your floors ever need to be refinished or recoated, these products will interfere with the bonding process. There are hundreds of hardwood floor cleaning products on the market, but many of them will leave a sticky residue and eventually dull and cloud your finish. Even "natural" cleaning products, like white vinegar, can be too acidic. Choose mild, neutral cleaners only. We recommend the BONA floor cleaning products for home use, which is available in most retail stores. Follow the manufacturer's instructions, and be sure not to overuse the products. Learn more on their website: https://us.bona.com/
Place mats at all entryways (inside and outside), and runners or area rugs in your high traffic areas.
Avoid rubber-backed rugs. They can actually DISCOLOR the flooring underneath.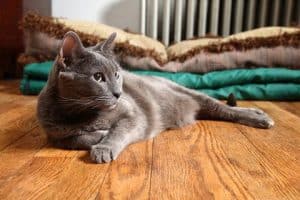 LOVE Your Hardwood Floors Again!
If you live in the Gillette area, give Disaster Recovery a call today and set up your FREE, in-home Inspection and Estimate.
We clean and seal; Tile and Grout, Hardwood, Vinyl, And Laminate Flooring!
For all of your Gillette, Wyoming floor cleaning and sealing needs, look no further than Disaster Recovery. We are proud to be the flooring specialists that our community trusts for all of their floor cleaning and sealing needs, and we strive to exceed all expectations with our skills and handiwork. Whether you are recovering from a natural disaster and need your floors deep cleaned and resealed, or you are simply looking for a crew that can handle your regular floor maintenance with excellence, Disaster Recovery is here for you.
At Disaster Recovery, we specialize in a broad variety of floor cleaning and sealing services. Our team can handle floor cleaning and sealing on tile and grout, hardwood, vinyl, and laminate. When you work with us, you can rest assured that your floors are in the very best of hands. Our floor cleaning and sealing will have your home looking better than ever in no time.
When you come to Disaster Recovery for our floor cleaning and sealing services, you get more than just our incredible craftsmanship and skills -- you get our top of the line customer service as well. We are committed to excellence in everything we do, and for us, that starts from the very first phone call. You can depend on our floor cleaning and sealing team to always arrive on time, work quickly, and clean up after themselves.
Give Disaster Recovery in Gillette, WY a call today to learn more about our floor cleaning and sealing services, discuss our affordable rates, or schedule a consultation with one of our specialists. Our friendly and knowledgeable staff is always happy to answer whatever questions you might have, and we look forward to serving you soon!